The Hell Rock Fest celebrates its fourth edition on Saturday September 7, 2019 in the town of Retuerta del Bullaque (Ciudad Real), specifically on county road 403, km 35.1 Carretera Vieja del Pantano Torre Abraham.

It will feature performances by heavy metal and rock bands with extensive experience on stage and others with great projection. The lineup is made up of the following bands: Koma, KaosUrbano, Celtibeerian, Vhaldemar, RiverCrow, Al tirón, Fuck Division and Modium.

Therefore, rock and metal lovers will enjoy what is beautiful in a festival that also takes place in an unbeatable setting, since it is located within the Cabañeros National Park, where other activities in contact with nature can also be carried out .

From Amicoche we recommend that you buy your ticket as soon as possible on the official website of the festival before they run out. You can also participate for free until May 7 in our free draw for 2 festival tickets that we have published on Amicoche's Facebook.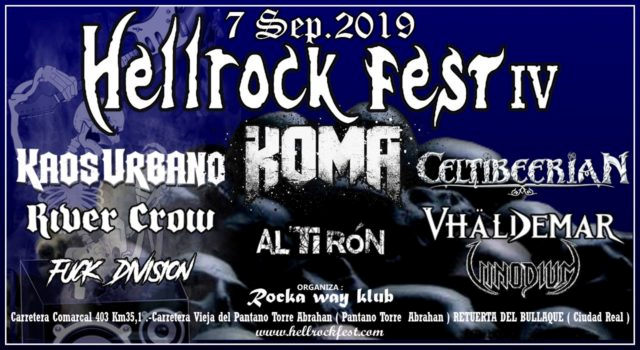 To get to the festival we recommend you to share a car without commissions in Amicoche. To do this, publish or search your car ride as soon as possible in the free Amicoche app (with more than 12.00 downloads on Google Play) or on the web at amicoche.com.

We recommend you publish your carpool trip in the section "Trips to festivals". To do this, log in, go to the app menu and select "Publish (to an event)" or from the web go to the main page, from there to the "Travel to festivals" section and select the Hell Rock Fest festival. Once inside, to post a trip to the festival click on the top right in "Create trip to this event" and follow the steps indicated. Remember that when sharing a car in Amicoche the contribution for the expenses to the driver is paid in cash (or by Bizum or similar) during the trip so that neither the driver nor the passenger pay any commission and the trip is usually cheaper and more efficient than in other means of transport.

After the trip, we recommend that you always leave an assessment of the other user so that there are more and more opinions in the profiles and to be able to choose better with whom to travel on the next trip. And remember that you can use Amicoche to find travel companions to go to study or work daily, on your weekend trips, etc.
Finally, comment that both parking and camping for festival goers is free. So, they can not put it easier, do not hesitate and travel with Amicoche to Hell Rock Fest and enjoy a day of good rock and heavy metal in a unique setting.
#Hellrockfest #amicoche #carpooling