Next Saturday, May 11, the festival En Órbita returns to Granada with an unbeatable lineup. The best of the indie, rock, pop and electronic scene will perform in the fourth edition of En Órbita 2019. The venue will be located at the Armilla Trade Fair (Fermasa), Granada. From Amicoche we recommend that you buy your ticket as soon as possible on the official website of the festival before they run out. You can also participate for free until May 7 in our raffle of 2 tickets for the festival that we have published on Amicoche's Facebook.

As you may already know, En Órbita is not just another music festival. Because in addition to good music, they have also thought of the smallest of the house (from 4 to 12 years old) organizing workshops so that they can also have a great time within the festival. But as in previous editions, the En Órbita draws muscle by presenting a balanced and high-quality lineup. Granada's 091, Fangoria, Love of Lesbian, Miss Caffeine, Full, Despistaos, Julia's Smile, Las Chillers, Margaux and many more will play, so good music and a good atmosphere are guaranteed.

The festival has a large venue that has two stages and is perfectly equipped with services to enjoy the festival, since it has a restaurant area where you can sit down and regain strength between one concert and another and an area for kids, stands, bars, token exchange stations, toilets, etc.
It should be noted that also on the official website of the festival they have an offer of € 50 in tokens (tokens to use within the festival site) for only € 40 (a 20% discount). Thus, the En Órbita provides enough facilities to make spending a great day on May 11 in Granada extremely easy.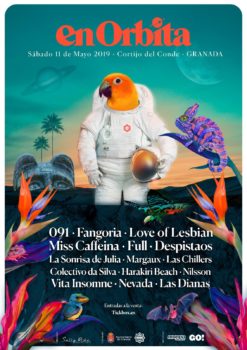 Para ir al festival te recomendamos compartir coche en Amicoche. Para ello publica cuanto antes tu viaje en coche compartido en la app gratuita de Amicoche (disponible en Google Play) en la web amicoche.com. Es muy fácil: Puedes publicar o buscar tu viaje en coche compartido en la sección Festivales seleccionando el festival En Órbita. Una vez dentro, para publicar un viaje al festival haz click en la parte superior derecha en "Crear viaje a este evento" y sigue los pasos que se indican. Al viajar en coche compartido en Amicoche la aportación por los gastos al conductor se da en efectivo durante el viaje por lo que ni el conductor ni el pasajero pagan comisión alguna y el viaje es mucho más económico para todos y es mucho más ecológico. Además, después del viaje los usuarios se pueden valorar mutuamente para que cada vez sea más fácil encontrar compañeros de viajes no sólo para ir a festivales, sino también para todo tipo de viajes: vacaciones, puentes, fines de semana, a diario para ir a estudiar o trabajar…
En definitiva, el 11 de mayo tienes una cita en el En Órbita, así que no lo dejes para última hora y compra ya tu entrada. Y también te invitamos a participar en nuestro sorteo gratuito en el Facebook de Amicoche de una invitación doble para el En Órbita 2019. Puedes participar hasta el 7 de mayo en el Facebook de Amicoche.
#carpooling #amicoche #festivals